Irvine Moving Solutions have relocated into a professional business complex to match our company standards. Office relocation is one of our many specialties!
We packed up our office equipment, our files, our men and we moved. It made it a lot easier to relocate when we had all of the necessary vehicles and man power at our disposal.
Everyone pitched in and made the move easy. 40 years of work was packed up and shipped across the Foyle Bridge to our new location. And so today Irvine Moving Solutions now resides at: North West Marketing, Skeoge Road Industrial Estate, Beraghmore Road, BT48 8SE.
Office relocation is what we do, and so it was no bother at all to our removals team!
We have moved businesses all over Europe and we do not take the job lightly. We understand how precious company files are to you, and so we promise to handle them with precision and care when packing and in transit. We often relocate staff from the European Parliament, European Commissions and the Department of Agriculture and Rural Development between their offices in Brussels, London and Belfast.
We can relate to how stressful organising a big office move can be, and so we promise to move your office(s) in its entirety to your new location safely and without any added pressure on you or your business.
You will be assigned a dedicated project manager to assist with your complete move. They will make sure that they see everything through from start to finish. This includes pick up times, delivery times and ensuring everything is handled within your budget. We have included a guide to moving offices on our site so you can get organised.
We have been in the removals business for many years so you can be confident that we have the required experience needed to relocate you, your employees and your complete office contents.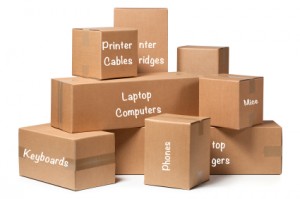 All of your valuable equipment and files will be in the hands of professionals. Our own office relocation went perfectly and yours will be treated with the same care and attention.